With Colin living on the streets, and Danny and Renata falling out with their military leaders, the New Heroes face their greatest challenge yet.
The sinister Trutopians - secretly led by Victor Cross - seem to be preparing for war, and each of the heroes must make a choice: whose side are they on?
But Cross has one more weapon in his arsenal, a final trick that he believes will help him to win the war: he will recruit Colin Wagner to the Trutopians.
Note for readers in the US: The third book in the series is published under the title The Reckoning; the series itself is called Quantum Prophecy!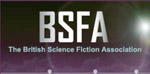 Nominated for Best Novel in the British Science Fiction Association Awards, 2007