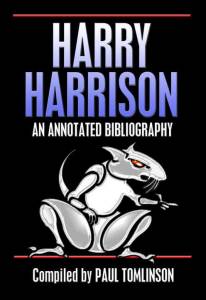 Compiled by Paul Tomlinson over a period of fifteen years, this bibliography is an indispensible guide to the works of Harry Harrison.

The bibliography has been broken down into the following sections:

I - Short Stories.
All of Harrison's short stories, novellas and novelettes, including the only published poem Ms. Found in a Bottle Washed Up On the Shores of Time. Also listed here are shorter versions of works which were later expanded or 'fixed up' into novel-length fiction. Every known appearance - in anthologies, magazines and other publications - in every language is listed chronologically. Reprints are also included. Appearances within Harrison's own collected works are listed once under their first appearance; details of later editions of collections are given in section III - Collections. Where a story was accompanied by illustrations, details of the illustrator are given where known.

II - Novels.
Appearances of novel-length works of fiction, in book form, as part of larger collections, and in their original serialisations within magazines. All known appearances, including reprints, in all languages are listed chronologically. The artist of the jacket or cover artwork - or of any interior illustrations - is given where known.

III - Collections.
Collections of Harrison's short fiction. All known appearances, including reprints, in all languages are listed chronologically. Lists of contents are given for each collection.

IV - Anthologies Edited.
Anthologies of fiction edited - or co-edited - by Harrison. All known appearances, including reprints, in all languages are listed chronologically. Lists of contents are given for each anthology. Anthologies of non-fiction are listed in section V - Non-Fiction Books.

V - Non-Fiction Books.
Non-fiction volumes written or edited by Harrison. All known appearances, including reprints, in all languages are listed chronologically. Lists of contents or chapter headings are given for each book.

VI - Reviews.
A representative selection of English language reviews - good and bad - of Harrison's works, with brief quotes from some of the reviews. Includes reviews of all novels, anthologies and collections, listed alphabetically by title of the work reviewed.

VII - Non-Fiction Articles.
Harrison's shorter non-fiction writings, including translations by Harrison of the works of other writers.

VIII - True Confessions & Men's Adventures.
An incomplete guide to magazine articles published in the 1950s in a variety of magazines. There are no known reference sources - this section is based on anecdotal evidence and a list of carbon copies of Harrison's original manuscripts held by the California State University, Fullerton.

IX - Comics.
Comics pencilled, inked and / or written by Harry Harrison. A first attempt at providing details of these works, based on incomplete reference sources. Also includes details of novels published in France which were, probably, based on Harrison's stories for The Saint comic strip.

X - Unproduced Screenplays.
Film and television projects written by Harrison which were never filmed.

XI - Adaptations.
Film, television, radio, comic book and other works based on Harrison's writings and characters.

XII - Editorial Posts.
Magazines edited by Harrison, and a complete list of the New English Library SF Master series, on which Harrison and Brian W. Aldiss served as editors.

XIII - Magazine Editorials.
Editorials for magazines edited by Harrison and guest editorials for other magazines.

XIV - Book Introductions.
Introductions by Harrison for books by other writers.

XV - Published Letters.
From Harrison's first published letter as a science fiction fan, aged 15 to date.

XVI - Pseudonyms.
Names under which Harrison has published works as writer or editor.

XVII - About the Author.
Biographical and autobiographical works, and critical works about Harrison's writings.

XVIII - Bibliography.
Works providing details of published editions of Harrison's writings in English and in translation.

XIX - The Official Harry Harrison Website.
A brief guide to the content of this website, which contains a number of original works by and about Harrison, as well as the full texts of some of the stories and articles listed in the bibliography.

XX - Fanzines.
Details of the contents of two official fanzines - Make Room! and Parallel Worlds - published between 1984 and 1995.

XXI - Miscellaneous.
Details which do not readily fit into any of the other sections: awards; memberships of organisations; Harrison's literary agent; etc.

In addition to these sections, there is a brief biography of Harry Harrison; a chronology of Harrison's life and work; a foreword by Harrison himself; and the first appearance in book form of the short story "A Dog and His Boy", which was originally intended for publication in Harlan Ellison's Last Dangerous Visions.